Update – March 23, 2020
Our Chilliwack and Abbotsford locations are open on an appointment-only basis (our Hope location is closed until further notice).

We will only be seeing clients by appointment as we try to do our part to practice social distancing. If you have an appointment, please contact our office as soon as possible to discuss your appointment.

We are limiting in-person appointments to only those required to close pending real estate or mortgage transactions. We are no longer accepting appointments for Notarizations, Wills, Powers of Attorney, and Representation Agreements. We may be able to discuss your Will, Power of Attorney or Representation Agreement with you over the phone, but appointments will be delayed until further notice. If you have any questions or concerns please contact our office.
Keep on the lookout for our SmartCar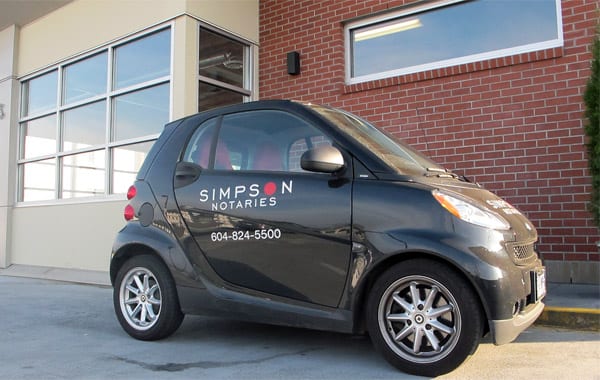 Chilliwack Notary Public
Simpson Notaries has been providing the highest standard of service to the community for over 40 years. We are comprised of hard-working folks from many different backgrounds, many of whom have been in the legal industry for most of their working lives. We offer a variety of services, including wills, conveyancing, notarizations, power of attorney, and representation agreements.